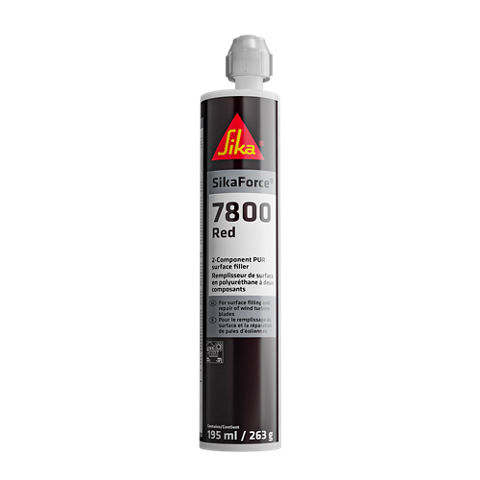 Fast curing profile and surface filler for blade repair applications
SikaForce®-800 Red is a two component polyurethane based profile and surface filler that works best at temperature above 15 °C (59 °F). If ambient temperatures are lower than 15 °C (59 °F) it is advisable to use SikaForce®-800 Blue.  
Superior mixing, application and tooling properties
Very good adhesion to GFRP
Non-sag up to layer thicknesses of approx. 20 mm (0.75 in)
Fast sanding time
Easy to sand, does not clog the sandpaper
Surface Fillers for Wind Blade Repair
Repair damaged wind blades quickly with the SikaForce®-7800 Series! SikaForce®-7800 Red and Blue are fast sanding surface fillers used for surface finishing and profiling of wind turbine blades. Both products offer 30 minute sanding time and are color-coded for use at different application temperature ranges.