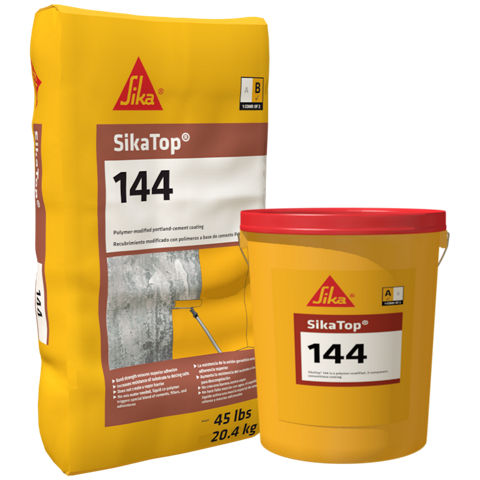 Polymer-modified portland-cement coating
SikaTop®-144 is a polymer-modified, two-component, cementitious coating. Designed for use on concrete, mortar, and masonry substrates. Easily applied by brush, roller, or spray equipment. This fine-textured, abrasion resistant coating is used for protection against deicing salts and for damp-proofing/waterproofing.
Bond strength ensures superior adhesion.
Increases resistance of substrate to deicing salts.
No mix water needed, liquid co-polymer triggers special blend of cements, fillers, and admixtures.
Superior abrasion resistance.
No batching, factory proportioned unit ensures consistent composition and high quality. Non-flammable; low odor.
Easily applied to clean, sound substrates.
Approved for use in contact with potable water.
May be overcoated with Sikagard® protective coatings.