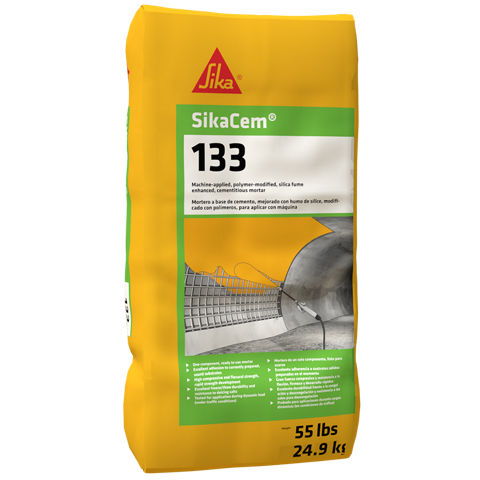 Machine-applied, polymer-modified, silica fume enhanced, cementitious mortar
SikaCem®-133 is a high performance, ready-to-use, non-accelerated, cementitious, polymer-modified, silica fume enhanced mortar with a dust control agent. SikaCem®-133 is formulated for machine applications using dry or wet process shotcrete equipment.
One-component, ready to use mortar.
Excellent adhesion to currently prepared, sound substrates.
High compressive and flexural strength, rapid strength development.
Excellent freeze/thaw durability and resistance to deicing salts.
Tested for application during dynamic load (under traffic conditions).
Increased density and durability - can be used as a thin overlay for additional protection of reinforcement.
High resistance to the diffusion of carbon dioxide (carbonation).
Constant modulus of elasticity in a wide temperature range.
Formulated to minimize dust formation.
Low in rebound, extremely economical in use.
Low water cement ratio, very low shrinkage.
Can be troweled and screed after application.