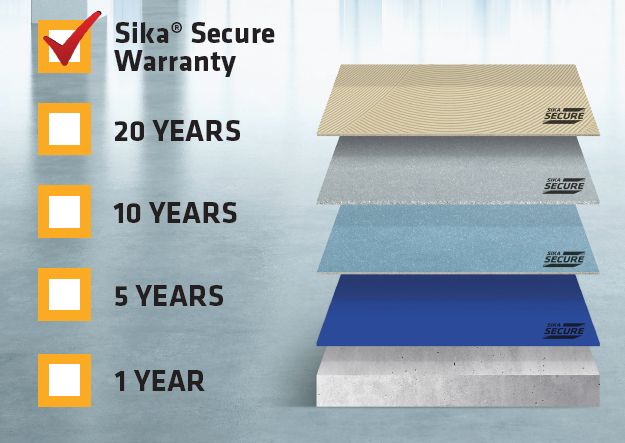 Download The Sike Secure Warranty
Product Category
Product Name
Carpet, Sheet Vinyl, LVT & Wood Floors
Moisture Barriers
Sika® MB
Sika® MB Redline
Equal to the Floor Covering Manufacturer's Warranty Period
Primers
Sika® Level-01 Primer Plus
Sika® Level-02 EZ Primer
Equal to the Floor Covering Manufacturer's Warranty Period
Self Leveling 

Compounds

Sika® Level SkimCoat
Sika® Level-225
Sika® Level-325
Sika® Level-425
Sika® Level-525 Rapid
Equal to the Floor Covering Manufacturer's Warranty Period
Wood Floor Adhesives
Sika® AcouBond® System
SikaBond®-T21
SikaBond®-T25
SikaBond®-T35
SikaBond®-T55
SikaBond®-T100
Equal to the Floor Covering Manufacturer's Warranty Period
Soft Floor Covering Adhesive
SikaBond®-150 Premium Floor
Equal to the Floor Covering Manufacturer's Warranty Period
WHAT DOES THE SIKA® SECURE WARRANTY COVER?
Labor and Materials are covered by the Sika® Secure Warranty. To get the benefit of a Sika® Limited Material and Labor Warranty you must first fulfill the warranty application requirements.
In the event of a valid claim under this Warranty, Sika® in its discretion will either pay the reasonable cost of labor and materials to repair or replace on a square foot basis the portion of the floor proven to be defective due to a defect in the Sika® Product(s) subject to exclusions as set in the Warranty. Sika® will repair or replace the affected floor one time only. Any repairs made prior to Sika® evaluating the claim will void this Warranty.Please contact your local Sika® Sales Representative for more information and warranty requirements
HOW ARE THE TERMS OF THE "SIKA® SECURE WARRANTY" DEFINED?
The Sika® Secure Warranty length is defined as a period of time equal to the flooring manufacturer's warranty period.
If no flooring manufacturer's warranty applies, "Sika® Secure Warranty" is defined as a period of time not to exceed 10 years for carpet and sheet vinyl, 15 years for luxury vinyl tile (LVT), or 25 years for wood floors or other floor covering systems.