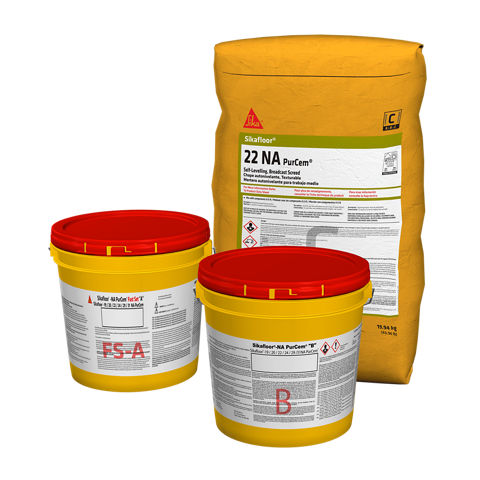 Sikafloor®-22 NA PurCem® FS
ADVANCED GENERATION, FAST SET, SELF LEVELING  BROADCAST CEMENTITIOUS                              URETHANE SLURRY
Sikafloor®-22 NA PurCem® FS is a self-leveling, solid color, three component, cementitious urethane slurry designed to provide excellent resistance to abrasion, impact, and chemical attack. Sikafloor®-22 NA PurCem® FS is broadcast with dried quartz sand and sealed with Sikafloor 31NA FS PurCem to produce a solid color finish, or can be broadcasted with colored quartz aggregate and sealed with Sikafloor resinous flooring products for a decorative finish. The system is typically installed at 3/16'' to 1/4'' (188 to 250 mils) thickness.
Can be applied on green concrete, typically 7-10 days. Full 28 days cure time is not necessary.
Can be applied over partially cured concrete substrates (> 4% mass (pbw –part by weight) as measured with Tramex® CME/CMExpert type concrete moisture meter surface moisture).
Can be applied to concrete substrates where <100 % relative humidity is measured as per ASTM F2170.
Resists a very wide range of organic and inorganic acids, alkalis, amines, salts and solvents. Consult Sika Technical Service for full details. Refer to the Sikafloor -22 NA Purcem FS Chemical Resistance Chart.
Similar coefficient of thermal expansion to concrete allowing movement with the substrate through     normal thermal cycling. It will perform and retain its physical characteristics through a wide temperature range from -40 °F (-40 °C) up to 248 °F (120 °C).
Steam cleanable at  3/16 to 1/4 inch (188 to 250 mils) thickness.
Non-tainting, odorless.
Behaves plastically under impact / deforms but will not crack or debond.
High abrasion qualities result from its aggregate structure.
Extra Expansion joints are not necessary; maintain and extend existing expansion joints up through the Sikafloor PurCem Flooring System.
Minimal maintenance costs, superior life cycle cost advantage versus tile.
Meets the requirements of USDA for use in food plants.