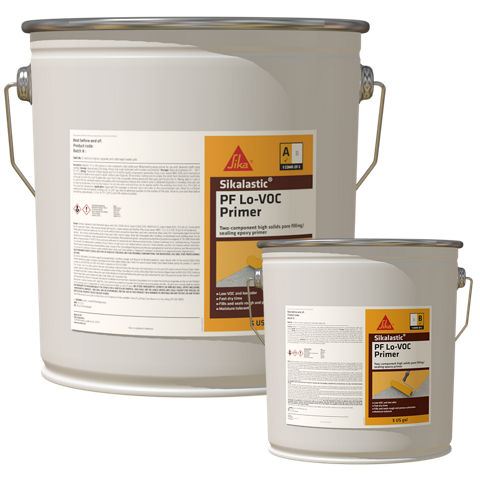 Sikalastic® PF Lo-VOC Primer
TWO-COMPONENT, HIGH SOLIDS, PORE FILLING/SEALING EPOXY PRIMER
Sikalastic® PF Lo-VOC Primer is a two-component, high solids pore filling/sealing epoxy primer for use with Sikalastic® traffic deck coatings.
Low VOC
Fast dry time
Low odor
Fills and seals rough and porous substrates
Moisture tolerant
Usage
Use with Sikalastic® Traffic Systems  as a primer on concrete, cementitious or plywood surfaces . May also be used to prime metal flashings and penetrations. Refer to the Sikalastic® 710 Lo-VOC/715 Lo-VOC/736 AL Lo-VOC, the Sikalastic® 710/715/735 AL, and the Sikalastic® 720/745 AL Traffic System Data Sheets for system application instructions as well as limitations. Use with Sikalastic® 320 NS/SL and Sikagard®7600 HG/VG  waterproofing membranes as primer when required.  
Advantages
Low VOC
Fast dry time
Low odor
Fills and seals rough and porous substrates
Moisture tolerant
Packaging
2 gal. Kit:
Component A: 1 US gal. (3.78 L)
Component B: 1 US gal. (3.78 L)
Components A+B: 2 US gal. (4.16 L) Box
4 gal. Kit:
Component A: 2x1 US gal. (7.56 L)
Component B: 2x1 US gal. (7.56 L)
Components 2A+2B: 4 US gal. (15.12 L) Box
10 gal. Kit:
Component A: 5 US gal. (18.9 L)
Component B: 5 US gal. (18.9 L)
Components A+B: 10 US gal. (37.8 L)
Product Details
Product Information
Shelf Life
1 year in original unopened container under proper storage conditions.
Storage Conditions
Store dry between 40–90 °F (4–32 °C).
Precondition material for at least 24 hours between 65–75 °F (18–24 °C).
Solid Content
94 % (by weight)

91 % (by volume)

(ASTM D-2369)
(ASTM D-2697)
Volatile organic compound (VOC) content
See Product Safety Data Sheet
Viscosity
Components A + B: 3000 ± 200 cps (approx.)
Application
Consumption
Coverage
Dependent on the substrate profile, used as pore-filler for uneven substrates
Application steps
SUBSTRATE PREPARATION
Surface must be clean, sound and dry. Remove dust, laitance, grease, curing compounds, bond inhibiting impregnations, waxes and any other contaminants. All projections, rough spots, etc. should be dressed off to achieve a level surface prior to the application.
Concrete - Should be cleaned and prepared to achieve a laitance and contaminant-free, open textured surface by blast cleaning or equivalent mechanical means (CSP-3-4 per ICRI guidelines). Sweep and vacuum any remaining dirt and dust with a wet/dry vacuum. Removing residual dust will help ensure a tenacious bond between the primer and substrate. The compressive strength of the concrete substrate should be at least 3500 psi at 28 days and at least 250 psi in tension at he time of application of Sikalastic® PF Lo-VOC Primer.
Plywood - Should be clean and smooth, APA and exterior grade, not less than 1/2" thick, and spaced and supported according to APA guidelines. Joints should be sealed with Sikaflex® 2c or 1a and detailed, and may need embedded fabric reinforcement.
Metal - Should be thoroughly cleaned by solvent wiping, then grinding or blast cleaning to near white metal (SSPC SPC-10).
MIXING
Premix Part A (black liquid) and Part B (white liquid) components separately using a low speed (400–600 rpm) mechanical mixer and Jiffy Paddle at slow speed to obtain uniform color (typically 30 seconds), making sure to scrape the solids from the bottom and sides of the pail. For both the 2 and 10 gallon kits, pour Part A into a separate mixing vessel and then pour part B into Part A. Mixing ratio is 1 part A to 1 part B. Mix the combined material thoroughly until a homogenous mixture and uniform color is obtained (typically 3 minutes). Use care not to allow the entrapment of air into the mixture. Do not mix more material than can be applied within the working time limits (i.e. Pot Life) at the actual field temperature.
APPLICATION
Apply with flat squeegee or phenolic resin core roller at the recommended rate. Allow for sufficient wetting of the slab and backroll, utilizing a ¼" or ⅜" nap roller to eliminate puddles on the surface of the slab. Coverage is based on substrate profile.
Sikalastic® PF Lo-VOC Primer must be tack-free prior to overcoating.  The tack-free state is determined when the primer has sufficient hardness so no indentation is possible with a fingernail.  Sikalastic® PF Lo-VOC Primer will generally take about 6 hours to reach a tack-free time at 75F conditions.  Sikalastic® PF Lo-VOC Primer must be overcoated within 12 hours after reaching a tack-free state.  If the 12 hour window is exceeded, the primed surface must be abraded (grinding or sanding), throughly cleaned to remove any dust, prior to reapplication of Sikalastic® PF Lo-VOC Primer.
Removal
Remove wet primer with MEK, xylene, or oxygenated solvents. Once cured, primer can only be removed by mechanical means. Strictly follow solvent manufacturer's warnings and instructions for use.