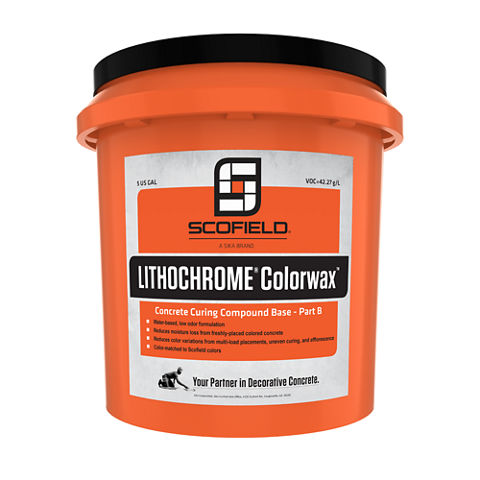 LITHOCHROME® Colorwax™ Concrete Curing Compound
A colored concrete curing compound that reduces moisture loss and improves visual uniformity of freshly placed colored concrete
LITHOCHROME® Colorwax™ Concrete Curing Compound is a colored concrete curing compound that reduces moisture loss from freshly placed concrete. Use during concrete placement, to reduce surface cracks and color variations caused by uneven drying and efflorescence that commonly occurs in warm, windy, or dry environments. It is not a paint or concrete sealer, and will gracefully wear, weather, and dissipate over several months without the appearance of peeling or chipped paint.   As freshly placed concrete cures, its color will vary with differences in surface moisture. Concrete in shaded areas or in the center of large slabs will surface dry slower than those exposed to sunlight or closer to form edges. If salt content of aggregates are high, efflorescence can bloom to the surface and lighten colors. These visual differences can be long lasting, and raise questions about the quality of the concrete placement. LITHOCHROME® Colorwax™ Concrete Curing Compound enables contractors to immediately deliver jobs that are uniform in color and appearance.   
Low odor water based formulation.
Does not peel or chip.
Color matched to any Scofield color.
Apply by brush, roller, or spray.
Removed by rotary scrubbers and power washers.
Does not gum grinding or abrasive polishing disks.