This course explores the process of selecting and specifying high performance resinous floor and wall systems for food and beverage processing facilities. It familiarizes the attendee with the latest system technologies and locations within food and beverage environments where resinous floor and wall systems offer superior performance, a balance between clean ability and safety, prevention of the proliferation of mold and harmful microorganisms and meeting the Food Safety Modernization Act of 2014 (FSMA) regulations and guidelines.

Identify project specific key performance criteria focusing on low or no volatile organic content (VOC) systems.
Explain the impact of uncontrolled slab moisture emissions such as, mold growth, premature system failure, trip hazards, disruption of operations, etc. and the latest approaches to address this issue.

Discuss key specification items including: Critical and safe detailing, drainage details, documentation of surface texture requirements, design impact on cleanliness and clean ability and quality assurance and mock-up.

Review matching of space demands and importance of matching system selection to those demands on the long term system performance.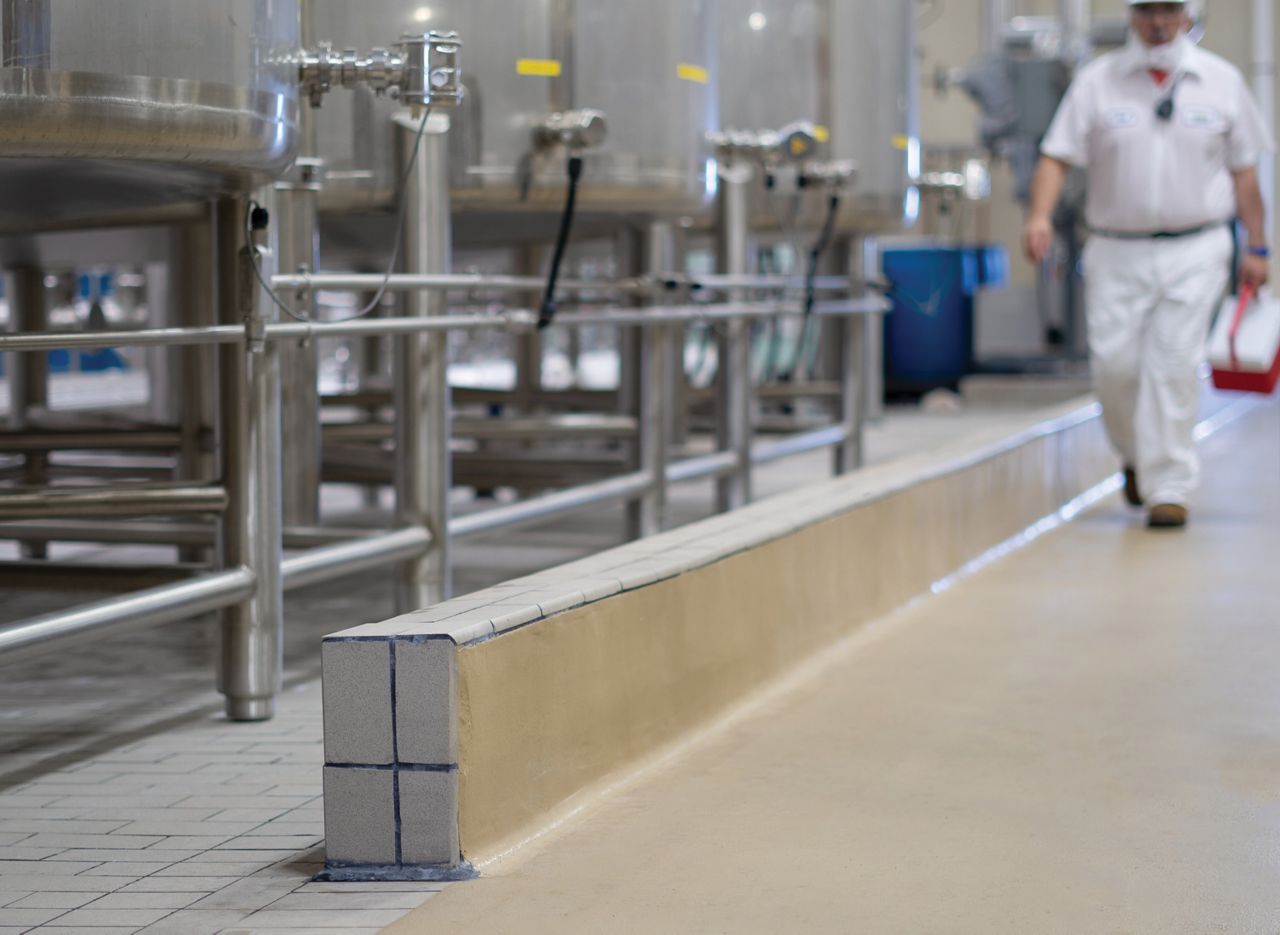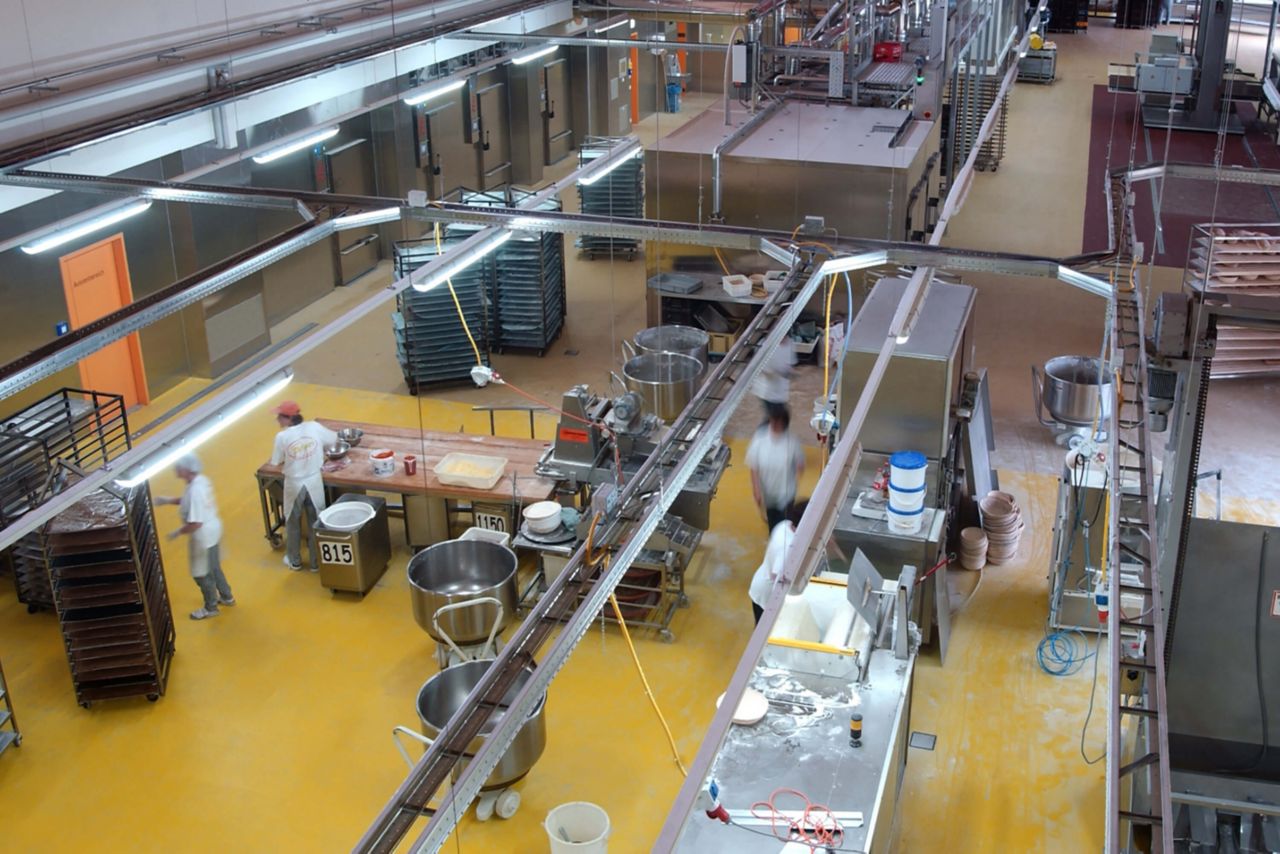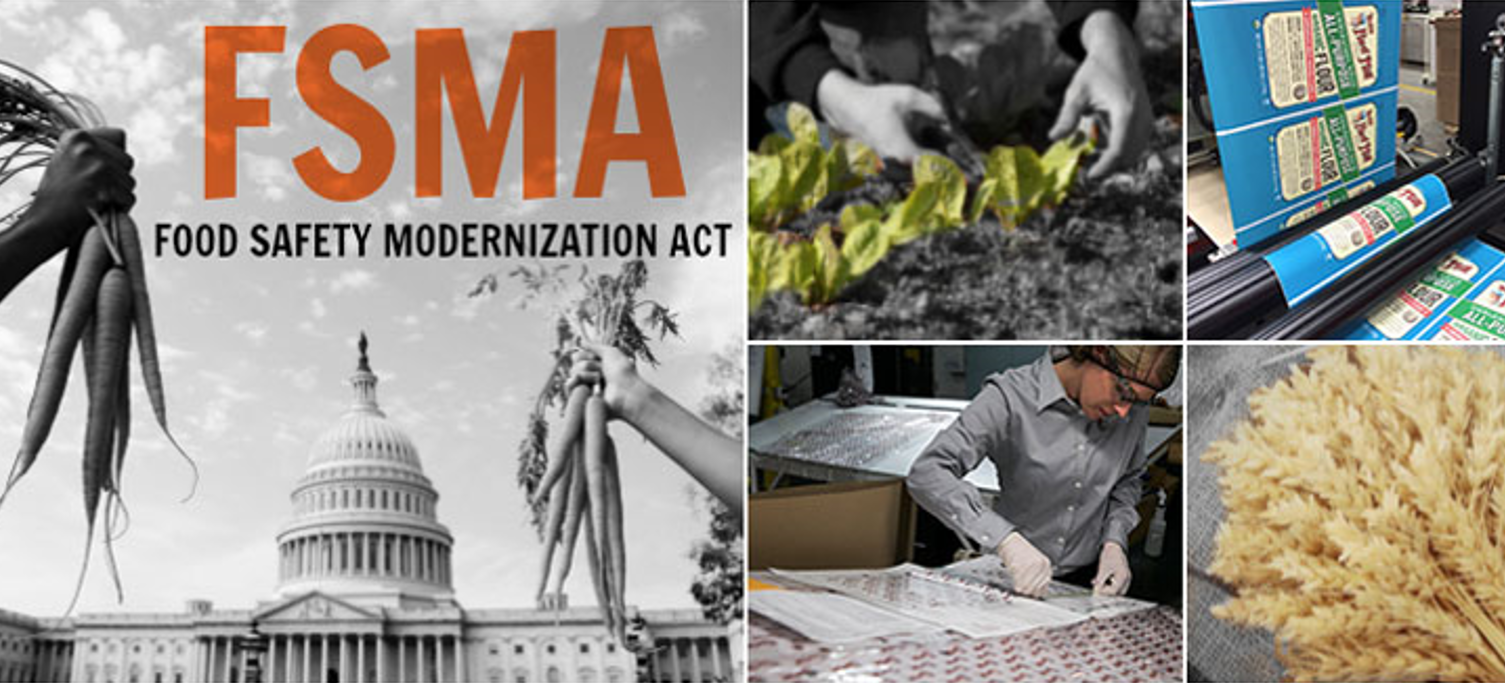 Transforming the nations food safety system by shifting the focus from responding to foodborne illness to preventing it.
Small cracks in flooring can cause bacteria to grow and build up. Ingesting as few as 10 bacterial cells can make you ill.
Average bacterium, volume 0.7 um3, or over 140,000 bacteria. 
Epoxies
Polyurethanes
Vinyl Esters
Poly Methyl Methacrylate
Acrylic Coatings
Low Odor

Aliphatic Urethanes

Solvent/Water Based
Thin Coatings
Good UV Resistance

High Odor
High Odor
Low VOC
Low Shrinkage

Aromatic Urethanes

Solvent/Water Based
Thin Coatings
Poor UV Resistance

Specialized Products for Chemical Containment and Chemical Resistant Flooring
Good Stain Resistance
Water Base
Great Bonding

Cementitious Urethanes

Thermal Shock Resistance
Excellent Organic Acid Resistance
Good Moisture Tolerance
Cures down to 45° F
Dominates Food & Beverage Market
Cold Environments & Quick Cure
Matte Finish

Specialty Chemical Resistance
Poor Solvent Resistance
Good Chemical Resistance
Great Physical Properties
 
 
Can Cure Down to 30° F
Easy to Maintain
 
 
 
Fast Curing, Low Gloss Finish
UV Stable

Used in facilities where the highest standards of hygiene and sanitation are required. 
Creates a seamless room envelope to create a floor to wall finish that eliminates small harborage points for contaminants to build up and flourish. 
Extremely durable to withstand aggressive sanitation and cleaning routines.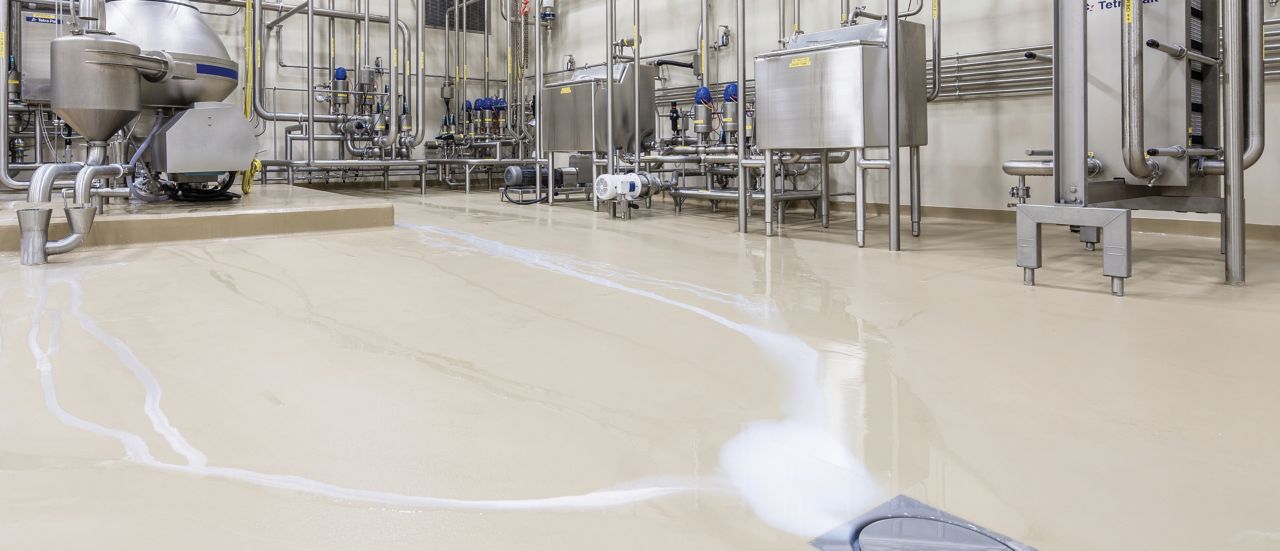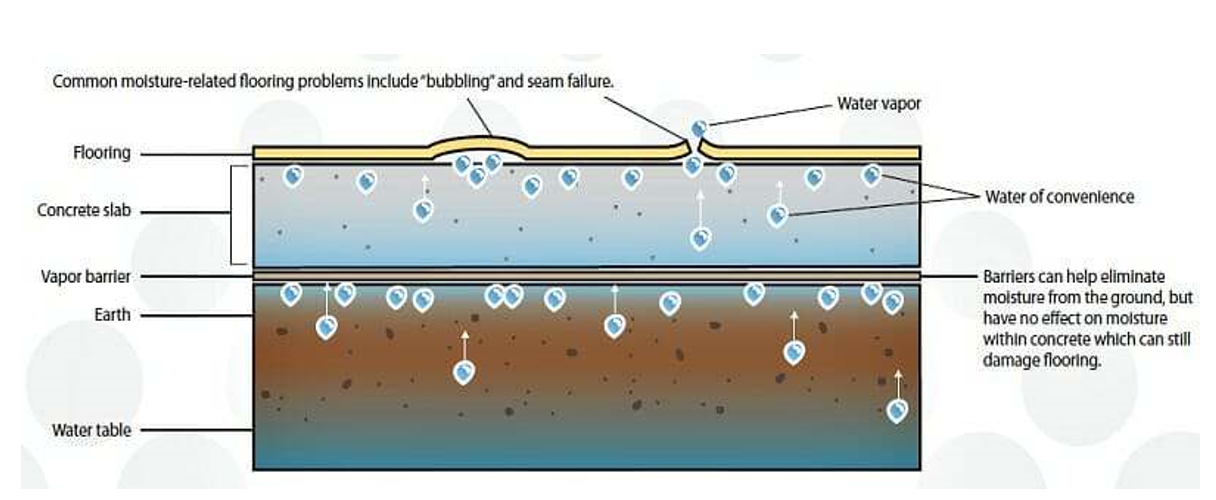 Moisture Limitations - Epoxy Systems
Moisture content less than 4% (Tramex)
Less than 75% RH (probe method)
Water vapor transmission (CaCL test)
- 3 lbs or less for liquid-rich systems
- 5 lbs or less for mortars (dry)
Vapor Barrier Favorable
You mentioned preparation is required before the application of the system is this required for all of them?
Yes, it is, for all of the resinous systems, there is a requirement for mechanical preparation to be performed. There is a concrete surface profile which is a universal numerical and visual scale for this substrate preparation. going from 1-10 which covers acid etching, light griding, light shock blasting, all the way up to scabling heavy-duty scarifying. for the majority of coating systems medium shock blasting, that would be  CSP of 5 is the ideal surface protection preparation. but in some scenarios that might not be possible in facilities that are fully operational, with plant in place, it might not be feasible to have equipment which is quite large, be around those plants & equipment, in those cases, we can assess if we can use a handheld grinding machine to prepare the substrate. What we are looking to do with the surface preparation is to remove any loose material before being applied, we need to make as course a surface as possible.
Posted on: 03/20/2020
Can the resinous system be applied to a base other than concrete?
Well yes, it can, the majority of the substrate that resinous systems are added is to concrete substrates. one of the biggest concerns is for epoxy, another other resinous systems is the moisture level within the concrete substrate, it is extremely important that this is checked before application. Moisture is the Achilles heel of an epoxy system. moisture within a substrate will only go one way, and that is up, and if there is an impervious system applied to concrete on top over time that moisture will delaminate the system, that coupled with the traffic on the top side, will break the system down, and it will become defunked overtime. so that is certainly an area we need to look at when it comes to concrete substrates. But resinous systems can be applied to numerous other substrates such as we will see from a refurbishment side of things dairy bricks, its extremely important that the system in place is secured and stable that its well-adhered tot he substrate beneath it, but with sufficient mechanical preparation, as i said in the last question, these systems can be applied to wooden floors, and metal substrates, again these will be evaluated on a case by case bases. 
Posted on: 03/20/2020
What are the improvements on the new technologies?
Urethane cements, the technology advancements allow for vastly improved curing times, with these new chemistry waiting times recoat times can be brought down to as little as 3 hours. Foot traffic after curing then can be reinstated within as little a little as 4 hours then light vehicular traffic within as little as 12 hours. So that is one of the most beneficial improvements in that urethane cement technology, it is the scheduling of the project itself, also with the repairs, the downtimes is absolutely minimum now. Another advancement is no plasticizers, no VOC, it will not taint any food stuff that are open or being produced in a facility. So that means so places can remain functional during after the procedure. 
Posted on: 03/20/2020
Watch The Webinar Recording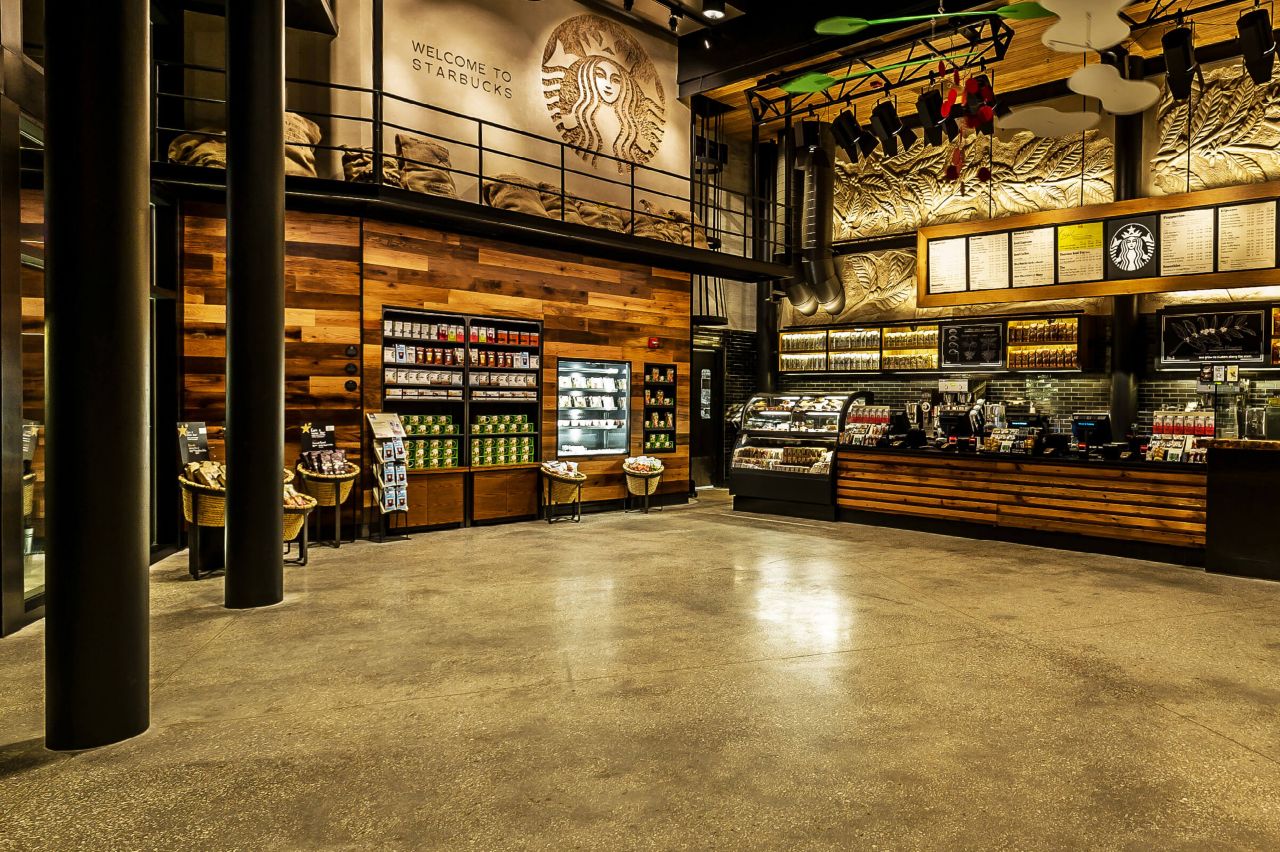 Arrange a Complimentary Floor Audit Today
Please fill out the form below to request a no-cost floor audit by a Sika industry expert.