PHARMACEUTICAL PRODUCT ENVELOPE SYSTEMS
Production of pharmaceuticals require exceptional dedication to quality, consistency and, in many cases, sterility of the drugs and medical devices being produced. These facilities and individual room envelopes are designed to maintain the necessary level of cleanliness for process and product safety, as well as worker safety. Selection of surfaces finishes including floors, walls and ceilings varies by the facility design, level of cleanliness required within the process, and the demands of the production process itself. Maintaining a clean environment throughout the process requires floors, walls and ceiling to be "easily cleaned", hard, smooth, non-porous surfaces, and appropriate for the area operation. This overview provides a comparative review of several surface finish options that can be utilized through the upstream and downstream process.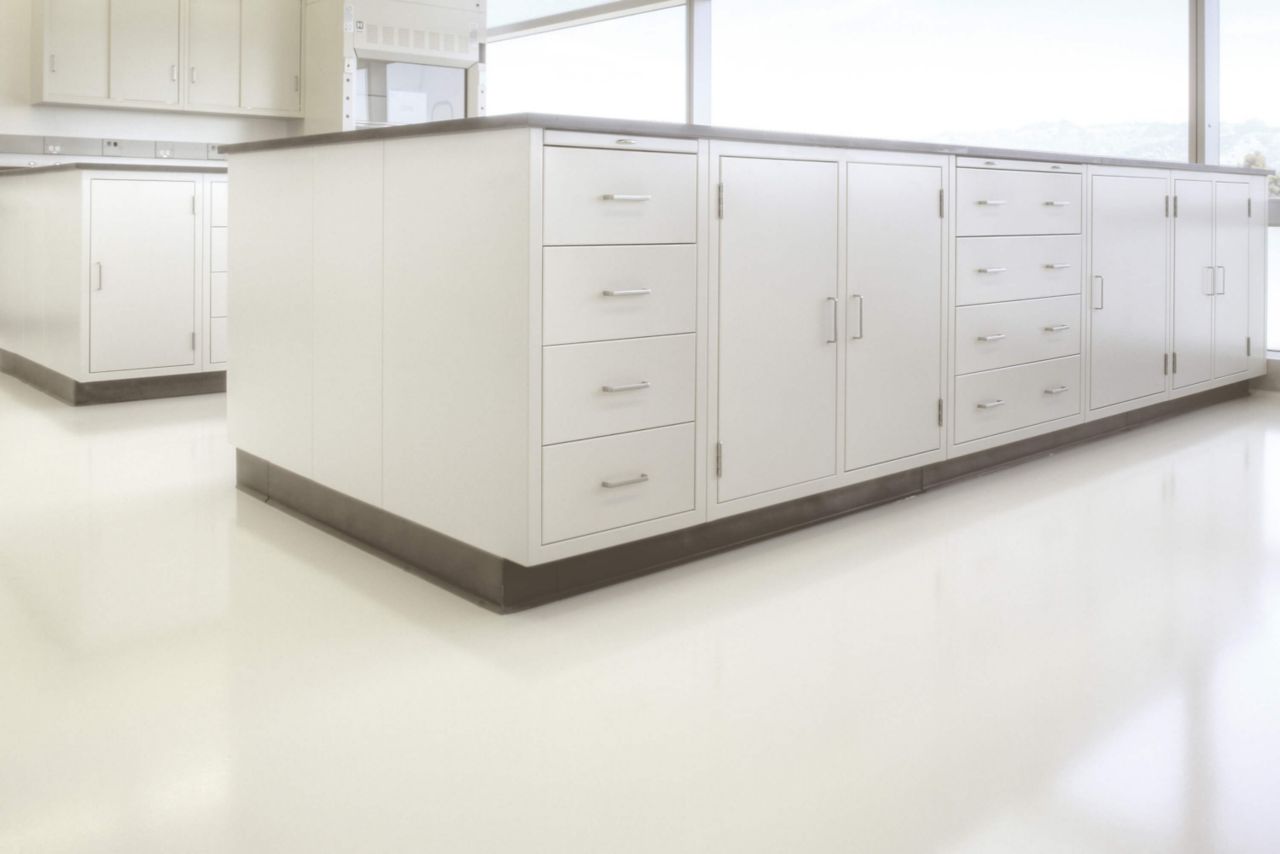 Read the whole story by downloading our Pharamceutical Production Room Envelope White Paper, where you will have tables, references and information at the palm of your hand. 
REGULATORY GUIDANCE AND DESIGN TO COMPLIANCE
Pharmaceutical production is the most regulated industry throughout the world with facilities designed and validated based upon the products produced, the flow of production and use of individual spaces. Facilities must be designed to protect the integrity of the product throughout the specialized stages of research, development, production and distribution (Table 1). The production process requirements, levels of cleanliness and production regulations will vary by the type of products produced (Table 2) and the intended administration (parenteral or non-parenteral). In many cases, the workers themselves must also be protected from the process. Facilities working active biologics such as viruses and other infectious agents must control viable particle counts as designated by BioSafety Levels (BSL) 1-4. 1
There are over 200 country specific regulatory agencies 2 throughout the world overseeing the production, labeling and distribution of medicines and medical devices. International organizations (Table 3) provide additional guidance and harmonization. In the Unites States the design and construction of facilities to meet current Good Manufacturing Practices for finished pharmaceuticals is governed by Title 21 of the Code of Federal Regulations Subpart C Section 211.42. 3 Aseptic processing requires walls, ceilings and floors to be smooth, hard surfaces that are easily cleanable. The European Union regulation for Good Manufacturing Practices 4 mirrors the FDA requirements in Chapter 3 where "…interior surfaces (walls, floors and ceilings) should be smooth, free from cracks and open joints, and should not shed particulate matter and should permit easy and effective cleaning and, if necessary, disinfection."
The International Conference on Harmonization of Technical Requirements for Registration of Pharmaceuticals for Human Use provides guidance regarding good manufacturing practice (GMP) for the manufacturing of active pharmaceutical ingredients (APIs) detailing facility and specific process operation coverage (Table 4).5 Depending upon the product being produced, the process may include controlled environment cleanroom(s). International cleanroom standards have been adopted under ANSI/IEST/ISO 14644.6 This classification system provides guidance for design, construction, monitoring and maintenance of cleanrooms. Levels of cleanliness are based upon particle count, controlled (during operation) primarily through air handling. (Table 5) lists the ISO levels and the relative correlation to other classifications that are still in use today.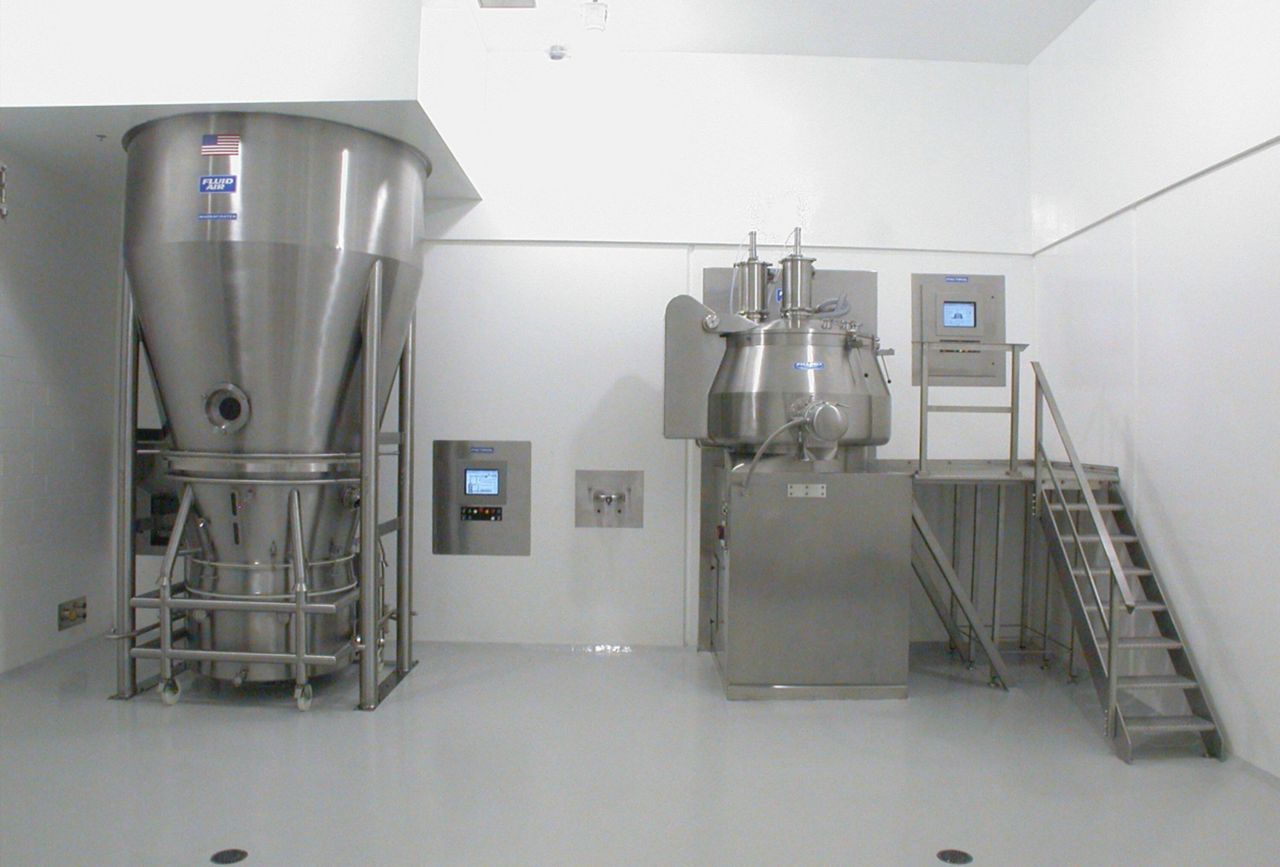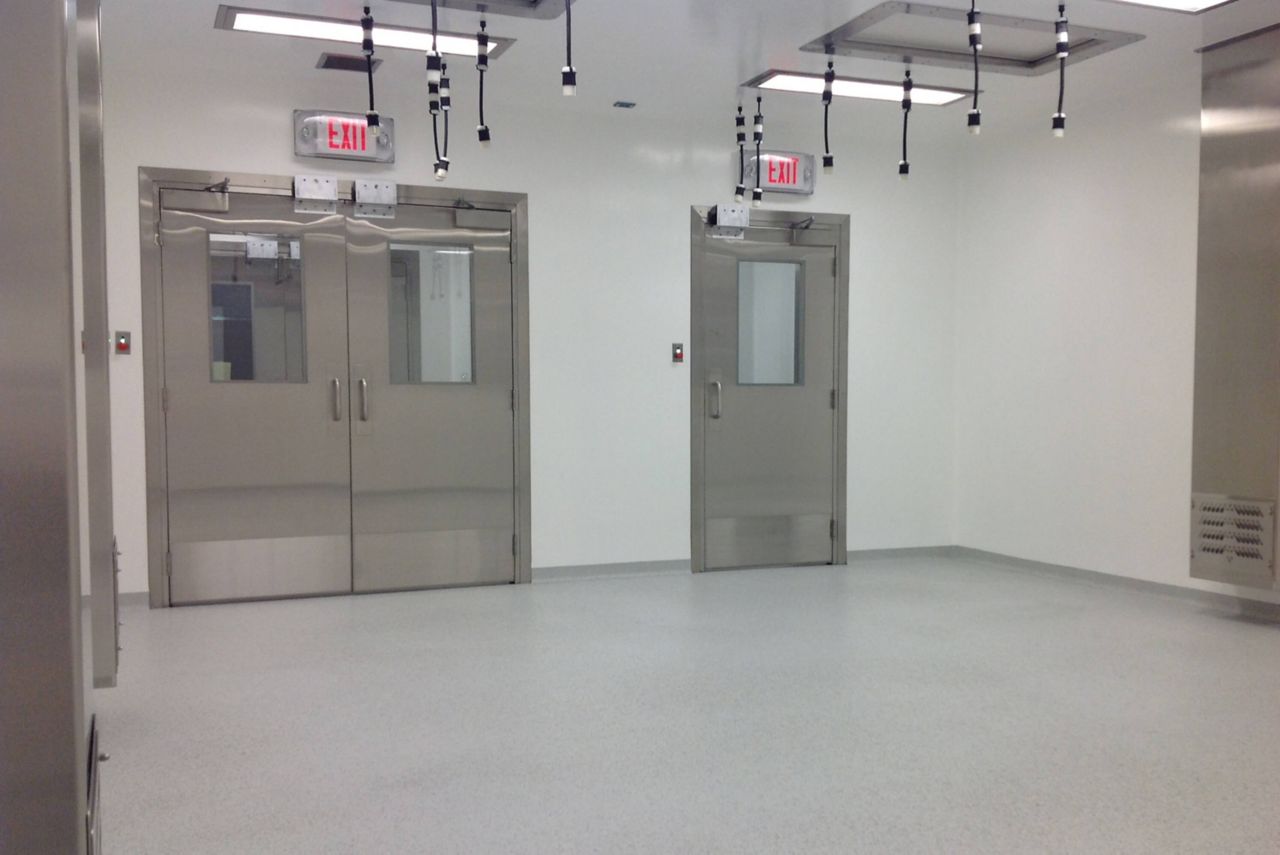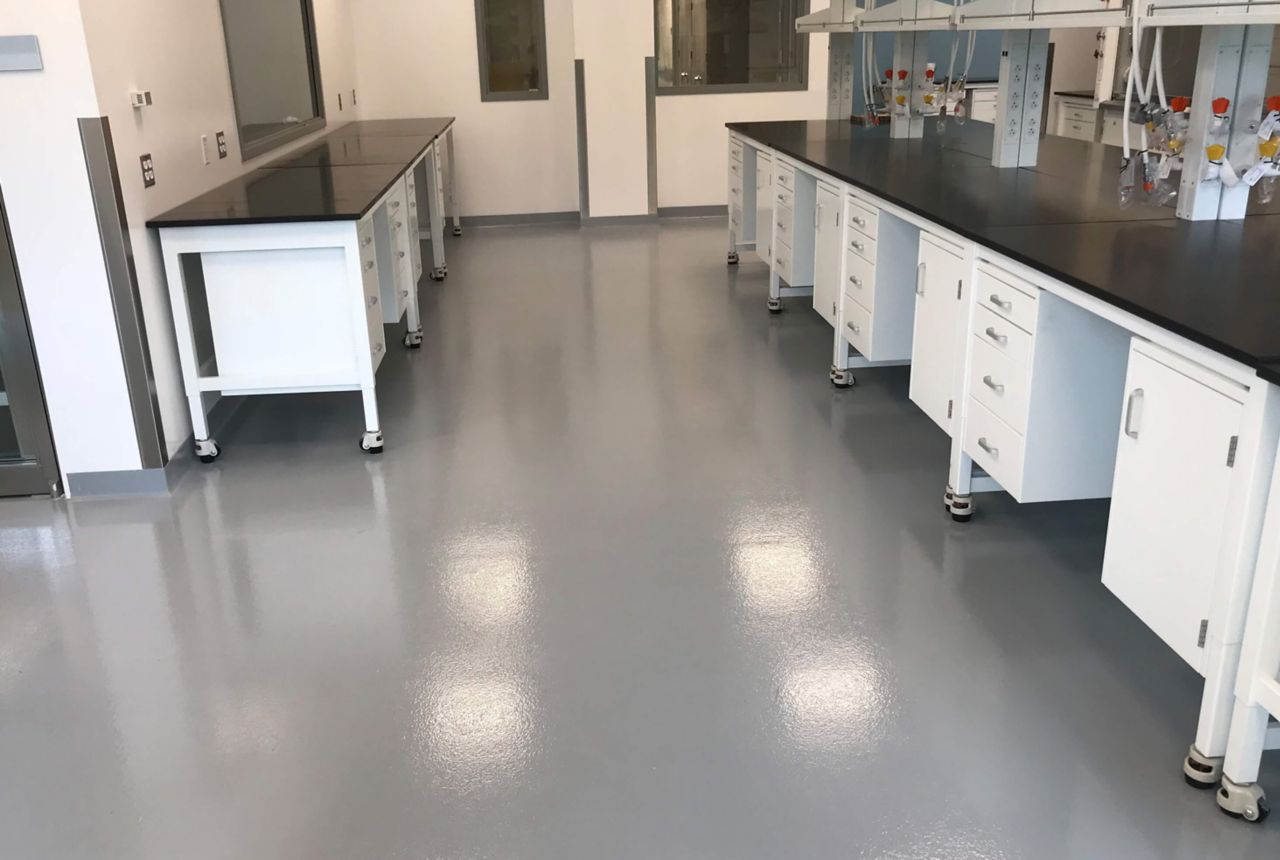 Risk mitigation and emphasis on safety have driven the high cost of research, development and production of pharmaceuticals. In the future there will be fewer mega volume drugs which had allowed for economies of scale. Smaller scale facilities utilizing flexible multi-product operations and regionalized production are likely to increase. This trend will minimize transportation costs, maximize local supply and reduce capital expense risk. Where possible, processes are trending toward reducing risk and increasing reliability by minimizing human interaction through the use of closed systems and automation.
SURFACE FINISH PERFORMANCE REQUIREMENTS
Although the pharmaceutical production industry is heavily regulated, monitored and controlled; the selection of the surface finishes is relatively straight forward. Knowing that all surfaces must be easily cleaned, non-porous, non-shedding and, in some cases, subject to stringent decontamination regiments, the practical options are limited. Performance requirements dictated by the process environment, installation limitations, and chemical (process, cleaning, and disinfection) limit the selection options.
SURFACE FINISH SELECTION PROCESS
The flooring system must be specific for the each identified room based upon the performance, aesthetics and cleaning requirements. Within this industry category there have been a few options that have proven performance and are highlighted here.9
Resinous flooring systems have been the most frequently utilized system for the pharmaceutical industry. System design options can vary the chemistry, aesthetics, application techniques, thickness and surface finish to meet the desired criteria. Resinous flooring systems provide a seamless floor to wall transition required for controlled environments in addition to providing the ability to slope to drains ( ISO 8 & 9). When steam cleaning is required for production area sanitation, high-build resinous mortar systems provide thermal shock resistance and can be textured for slip resistance.
The resin base chemistry can provide a high degree of chemical resistance for the most stringent disinfecting process and standard systems work well with vaporized hydrogen peroxide. Specialty systems are available to meet the needs of static dissipative or conductive requirements. Most recently the resinous flooring industry has provided solutions to substrate moisture related problems with mitigation systems and breathable flooring systems. Page 9 and 10 outlines a representative sample of recommended resinous flooring and wall systems by work area.
Rubber or vinyl sheet good products (PVC) have been used in cleanroom applications. These products supplied 4-6 foot wide rolls and are glued to the concrete substrate. Seams are the critical component to this flooring. The seams are heat or chemically welded to provide a sealed seamless finish. In cleanroom environments no gaps can be tolerated as these can harbor contaminants and microbes. (Figure 1) The vinyl sheet can be coved to connect with the wall panels. These products are best limited to dry foot traffic areas. Heavy instrument point loading or wheeled traffic may result in damage.
Over the past decade polished concrete has become a floor finish option, primarily in retail applications. This finish has been used in the pharmaceutical sector as an economical alternative.10 The polishing process densifies the concrete surface reducing the porosity and hardening the surface. It is not recommended for cleanroom applications because it does not seal the concrete completely and with wear, will require repeated polishing. In some dry upstream production areas, it may be an option but in wet, high abrasion or impact areas it is not a good long term solution.
WALL AND CEILING FINISH OPTIONS
Pharmaceutical production areas clean with harsh cleaning and conventional wall paints are not acceptable. Epoxy and polyurethane wall coatings are a practical, relatively inexpensive solution for GMP production areas.11 In cleanrooms environments epoxy wall systems tie in seamlessly with the floor and ceiling systems with radius cove. (Figure 2) When gypsum wall board is used, a fiberglass reinforced wall coating is recommended to prevent damage exposing the gypsum to moisture. Concrete masonry block walls typically utilize a block filler prior to applying the wall coatings. The ultimate finish for the coating should be high gloss smooth or egg shell finish for ease of cleaning.
SPECIFICATION AND PLANNING
In order to avoid installation problems and facilitate a rapid commissioning and validation process, the specification of the finish surfaces must be exact and detailed. Working through the floor, wall and ceiling options, the best selection for each room envelope needs to be detailed within the specification sand drawings. It is recommended that "or equal" options not be permitted.
Regardless of the systems selected for the surface finishes, but most critically for bonded resinous systems, the surface preparation is critical to the long-term performance and uninterrupted production operation. The substrates must be inspected and qualified as clean and sound. Surface preparation profile is based upon manufacturer's recommendation for the intended flooring system. ICRI provides visual and tactile standards to monitor and qualify the concrete profile. 12 Concrete and CMU are porous substrates. Moisture vapor transition must meet the acceptable limits of the finish to be applied. Repairs and remediation must be completed prior to installations. SSPC and NACE provide a detail guide for preparation of concrete prior to coatings. 13
Transitions, texture and porosity are extremely important within controlled and clean environments. Floor to wall covebases details must show a minimum or four inches with a smooth, sealed interface between the wall system and the floor cove. The cove must not have a textured finish. Inside and outside corners require more skill to install and must be smooth and consistent with the rest of the base. Wall to ceiling junctions must also have a radius cove (ISO 7 and cleaner). Floor drains (ISO 8-9 and non-classified areas) must be keyed without feathering. Trough drains and slope to drains should flow completely with no puddling. Protrusion transitions must be smooth and sealed. Observation windows and pass-throughs must be finished flush with no ledges. Light fixers and HVAC vent transitions must be completely sealed. Floor system terminations and transitions to other flooring systems are ideally avoided within the clean envelope.
When utilizing resinous systems, the final topcoat can be applied in a single application over contiguous systems creating a seamless transition. Termination of higher build systems to coatings or concrete must be keyed to avoid feathering or trip hazard.
The flooring finish texture will depend upon conditions of operation. Texture can be minimize slips in cleanrooms areas where sanitary footwear is used and in GMP wet environments. The Society of Protective Coating Committee C7.5 has drafted a classification system for concrete coating finish texture descriptions with tactile comparators to more accurately describe, install and qualify degree of texture (Figure 3). 14
VERTICAL MARKET MANAGER - LIFE SCIENCES
For thirty years, Jim Hendley, Sika's Life Science Vertical Market Manager, has worked with BioPharm, Research and Healthcare owners and their design and construction teams to optimize their hygienic resinous floor and wall systems performance.
He has worked with some of the world's most recognized Healthcare and Life Sciences organizations on major projects both in the United States and abroad. Jim is an industry recognized expert, whose opinions are often sought after by the Life Sciences media. He is a published author and is a frequent speaker on issues relating to hygienic environments at industry forums and conferences.
Jim holds a NACE Level 3 Certified Coatings Inspector (Cert. No. 13504) and is available to share his extensive project planning expertise with your team on your next new installation or retrofitting project next new installation or retrofitting project.