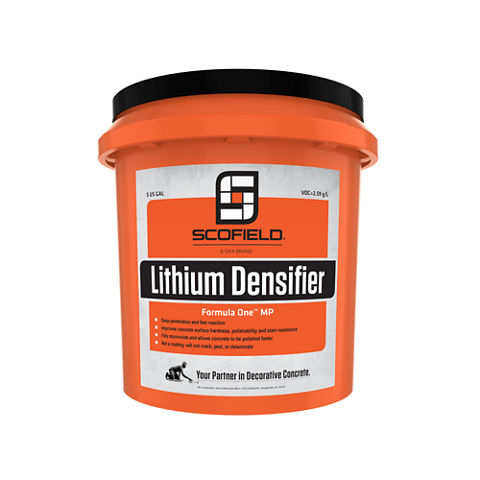 SCOFIELD® Formula One™ Lithium Densifier MP
A deep penetrating lithium densifier for improving concrete surface hardness, ease of polishing, and stain resistance.
SCOFIELD® Formula One™ Lithium Densifier MP is a very low VOC concrete densifier formulated to deeply penetrate and quickly react with concrete components. It will harden, densify, and increase the abrasion resistance of cementitious surfaces. Based on a blend of lithium silicate and surface tension modifiers, it deeply penetrates into concrete pores easier than competitive products. It reacts with cement, pozzolans, and most aggregates to fill microvoids and allow concrete to polish faster while improving water and stain resistance. It is not a coating, and will not crack, peel, or delaminate from surfaces. It can be used full strength or diluted to meet specific project needs.
Low odor, non-yellowing water based formulation.
Breathable non-film forming surface treatment.
Bonds directly to cement and aggregate silicates.
Effectively locks in concrete dyes.
Hardens and improves stain and scratch resistance.
Deeply penetrates, and quickly reacts.
Shortens concrete polishing times.
UV light stable and weather resistant.
Combats deteriorating surface ASR and frosting.
Resists efflorescence.
Cures to a non-toxic, non-flammable surface.
Apply by brush, roller, spray or mop.