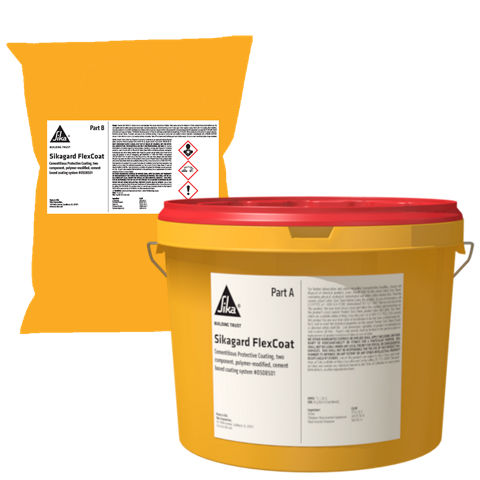 Two-component, polymer-modified, waterproof, cement-based coating system
Sikagard® FlexCoat is a polymerized cementitious protective coating. It consists of a unique rubber-like polymer liquid (Part A) mixed at the time of application with a cement aggregate blend (Part B).
It can be applied over almost any clean, sound surface e.g. concrete, block, masonry, etc. for a number of different floor, wall and roof uses.
Extraordinary adhesion coupled with its ability to withstand prolonged pedestrian and light vehicular traffic. In these respects, the material is far superior to conventional cementitious coatings.
Provides a waterproof coating which substantially reduces or prevents water penetration, freeze-thaw scaling and concrete carbonation.
"Breathable" coating which releases normal entrapped vapor without loosening or blistering.
Available in natural cement color.
Sikalastic® Traffic Systems can be top coated with Sikagard® FlexCoat cement based systems. Please refer to the spec component of the Sikalastic®/Sikagard® Flexcoat Hybrid System.