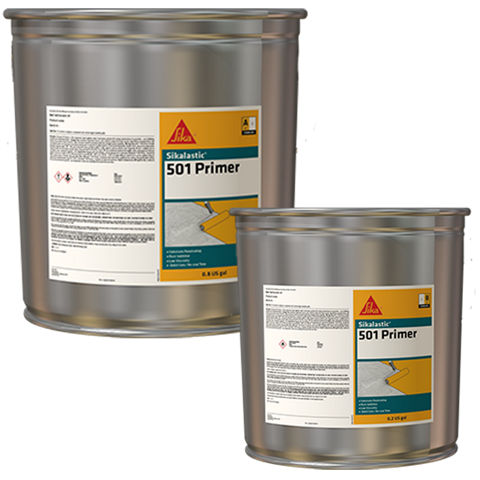 Epoxy primer for modified bitumen and metal substrates
Sikalastic® -501 Primer is a two component, liquid applied, water-based epoxy primer with unique penetrating characteristics, rust inhibiting properties and an asphalt bleed blocker. Designed for use with Sikalastic® -515AC and Sikalastic® -500 coatings.
Substrate Penetrating
Rust Inhibitor
Low Viscosity
Quick Cure/Re-coat Time
Usage
Modified Bitumen
Asphalt
Metal
Masonary
Acrylic Coatings
Polyurethane Elastomeric Surfaces
Advantages
Substrate Penetrating
Rust Inhibitor
Low Viscosity
Quick Cure/Re-coat Time
Packaging
1 gal. kit (Part A, 0.8 gal, Part B, 0.2 gal)
5 gal. kit (Part A: 4.0 gal, Part B, 1 gal)
Color
Part A: Yellow
Part B: Off White
Product Details
Product Information
Chemical Base
Water-based Epoxy
Storage Conditions
Condition material to 50–77 °F (10–25 °C) before using for ease of application.
Density
Part A: 1.13 kg/l
Part B: 1.07 kg/l
Viscosity
1500 cps. (at 75 °F (24 °C) and 50 % R.H., Part A+B)
Volatile organic compound (VOC) content
Application
Application Information
Mixing Ratio
Part A : Part B  =  4 : 1
Ambient Air Temperature
41 °F (5 °C) min. / 104 °F (40 °C) max.
Relative Air Humidity
80 % R.H. max.
Dew Point
Beware of condensation.
The substrate and uncured coating must be ≥ 5 °F (3 °C) above dew point.
Substrate Temperature
41 °F (5 °C) min. / 140 °F (60 °C) max.
Substrate Moisture Content
≤ 4 % moisture content Test method: Sika®-Tramex meter
No rising moisture according to ASTM (Polyethylene-sheet).
Pot Life
30–45 minutes (at 75 °F (24 °C) and 50 % R.H.)
Waiting / Recoat Times
Allow primer to cure completely prior to applying membrane resin.
(Full cure: 4 hours at 68°F.)
Membrane resin should be applied within 24 hours of primer application. Maximum primer exposure is 48 hours. Primer exposed longer than 48 hours, exposed to water during curing and/or exhibiting a chalky appearance, must be reprimed. Deteriorated primer must be mechanically removed before primer reapplication.
Consumption
Coverage
1 gal/300 sq.ft. on non-absorbent smooth substrates

1 gal/100 sq.ft. on mineral surfaced modified bitumen

Note: Rough, porous, or absorbent surfaces will require additional primer and will reduce yield.
Application steps
MIXING
Sikalastic®-501 Primer should not be diluted under any circumstance. The volume mixing ratio: 4 units Part-A yellow liquid to 1 Part B off white liquid. Premix Part A and part B components separately using low speed (400–600 rpm) mechanical mixer and Jiffy paddle at slow speed to obtain uniform color (typically 30 sec.), making sure to scrape the solids from the bottom and the sides of the pail. Add Part B to Part A pail. Mix the combined material thoroughly until a homogenous mixture and uniform color is obtained (typically 3 min.)
APPLICATION
Remove all contaminants, oil and grease from substrate. Sikalastic®-501 Primer should be applied at the rate of 1 gal. (3.8 L) (mixture of part A & part B)/100–300 ft2 (9.2–27.8 m2) depending on substrate. It can be applied using an airless sprayer, brush, or phenolic resin core roller. Allow Sikalastic®-501 Primer to become tack free before applying the coating.  Sikalastic®-501 Primer is sensitive to heat and moisture. Higher temperatures will significantly accelerate the cure time and decrease pot life. Low temperature and/or low humidity will extend the cure time.