Lightweight, Non-Penetrating and Fully Warranted
Unlike most solar installations where the roofing manufacturer and the solar installer aren't in communication with each other, Sika Sarnafil decided it was time to work together and get on the same page.  Why, do you ask?  Because solar installers unknowingly have been voiding the building owners roofing warranty when installing the solar panels leaving the building owner on the hook if and when there is a leak or a premature roof failure!
The Sika SolaRoof® is a comprehensive, integrated solar solution incorporating the proven performance of Sarnafil roof assemblies with the Sika SolarMount-1 – a lightweight, non-penetrating, innovative solution for long-term securement of solar rooftop photovoltaic. Sika SolarMount-1 is an engineered, aerodynamic mounting system for the installation of rigid PV panels on low slope Sarnafil thermoplastic roofs.
Below are some of the reasons why a Sika SolaRoof System might be the best fit for your project.

Sika SolarMount-1
The Sika SolarMount-1 is a durable, lightweight mount for rigid solar panels used within the Sika SolaRoof System.
Wind Deflector Sheild
Designed to help the mounting system during high wind events, the wind deflector shield blocks wind from getting under the panels and causing stress on the system.
Sika SolaClick
The Sika SolaClick is an injection molded PVC "click" that is made of the same time proven material as the Sarnafil membrane.  The "clicks" are hot-air welded 
Sika SolarRoof Advantages:
Only industry single-source 20 year warranty
Warranty covers roof and solar system 
Lightweight
Non-penetrating
Compatible with roof membrane
Heavy snow load durability
Proven Sarnafil membrane
Wind tunnel tested 
Quick installation
East-West configuration possible 
Cost effective

Sika Roofing Provides Proven Performance and Unparalleled Expertise
Selecting the right partner is essential for a successful, sustainable investment in rooftop photovoltaic installation. Extensive experience in the installation of roofing membranes, proven expertise in PV and a long-lasting roofing membrane makes Sika the right choice when long-term solutions are what you desire.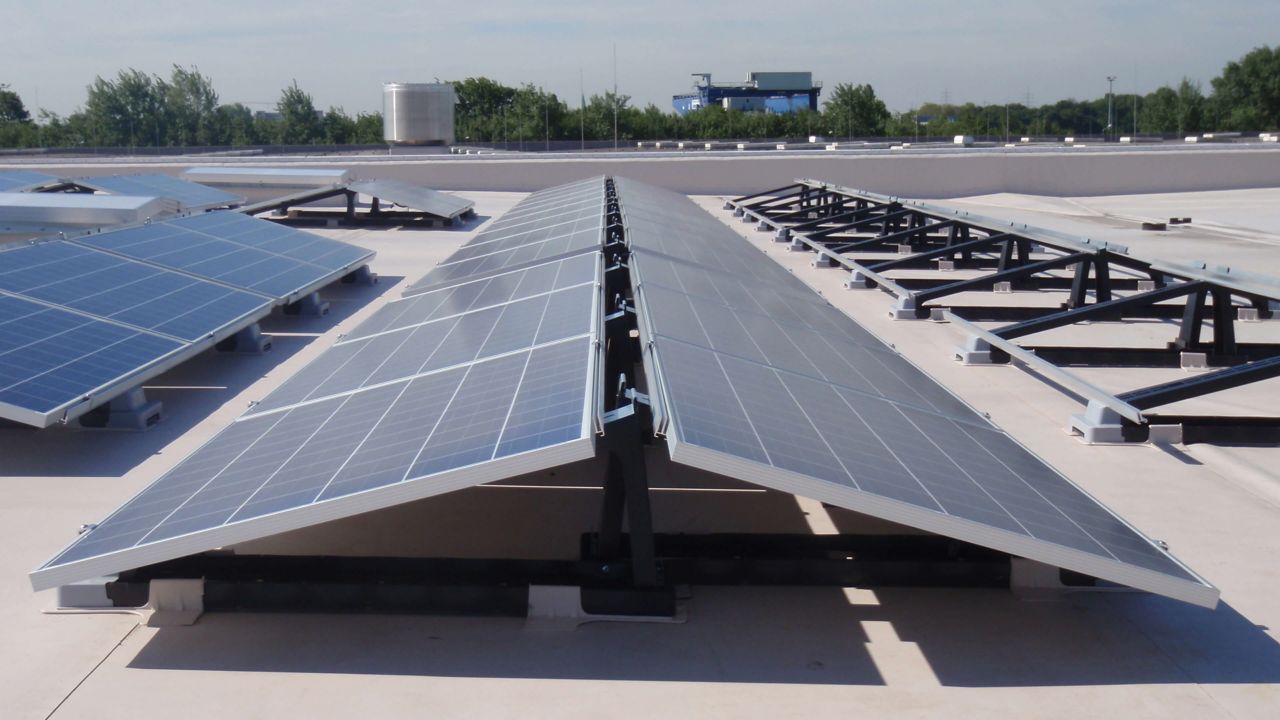 Actual performance in the field over time is the only true test of a roofing system's quality. Over the past 50+ years, billions of square feet of Sarnafil membrane have performed with distinction. Along with protection from the elements, Sarnafil's versatile single-ply membrane systems also boast sustainability features like unparalleled longevity, outstanding energy efficiency and minimal maintenance. Sarnafil membranes are the only products to have achieved a Platinum rating according to the NSF/ANSI 347 sustainability assessment for single-ply roofing membranes.

Investing in a Sika SolaRoof system will be a decision that rewards you with peace of mind, reliability, energy savings and the highest standard of quality - a claim that has been proven against the test of time. 

The Sika SolaRoof not only offers a proprietary method of attachment with the Sika SolarMount-1 mounting system, but it can be covered by a single-source warranty for up to 20 years as well. Another benefit of the Sika SolarMount-1 is its versatility. The SSM1 can be assembled in a variety of configurations, in either South or East-West orientations.

Sika SolaRoof Demo - RCI 2018
Sika Sarnafil and Centroplan teamed up to give a product demonstration of the innovative Sika SolaRoof at the 2018 RCI in Houston. The Sika SolaRoof is a comprehensive, non-penetrating solar solution for thermoplastic roofs.