One of the most vulnerable components of a building exposed to fire is the roof. Roof systems can burn either from fires within the building or from the top side down. Codes require for roofing systems to be tested and classified to meet certain requirements, depending on the building use and occupancy.

While fire safety codes have greatly improved over the years, losses from fire are still an ongoing issue. Sika roof membranes are made of PVC, which is naturally fire resistant.
The inherent fire resistance of Sika membranes is evidenced by successful achievement and full compliance with roofing's most significant fire safety requirements.

PVC roofing membranes, such as Sika's, can self-extinguish and resist the spread of flame. In a laboratory experiment, a flame source was applied for ten seconds to SBS modified bitumen, fire retardant TPO, Sikaplan membrane and fire retardant EPDM. When the flame source was removed, the Sikaplan membrane extinguished the fire, while the alternative membranes continued to support combustion.
SARNAFIL MEMBRANE PROVES PERFORMANCE FOLLOWING HELICOPTER CRASH
In April of 2014, a medical helicopter crashed onto the roof of the University of New Mexico Hospital shortly after dropping off a patient. As a result of the crash, which all three crew members survived, fuel was spilled and quickly ignited.
Luckily, the fire was suppressed right away and did not spread thanks to the building's Sika Sarnafil roofing membrane. Within moments of the fire, thousands of gallons of water were dispensed in order to clean the diesel fuel off the roof. Though the helicopter's sharp rotor blades went through the membrane, the Sarnafil assembly did its job. Where an asphalt or EPDM roof would have exploded into pieces, the reinforced PVC stayed together and actually closed up after the blades were pulled out, preventing any leaks.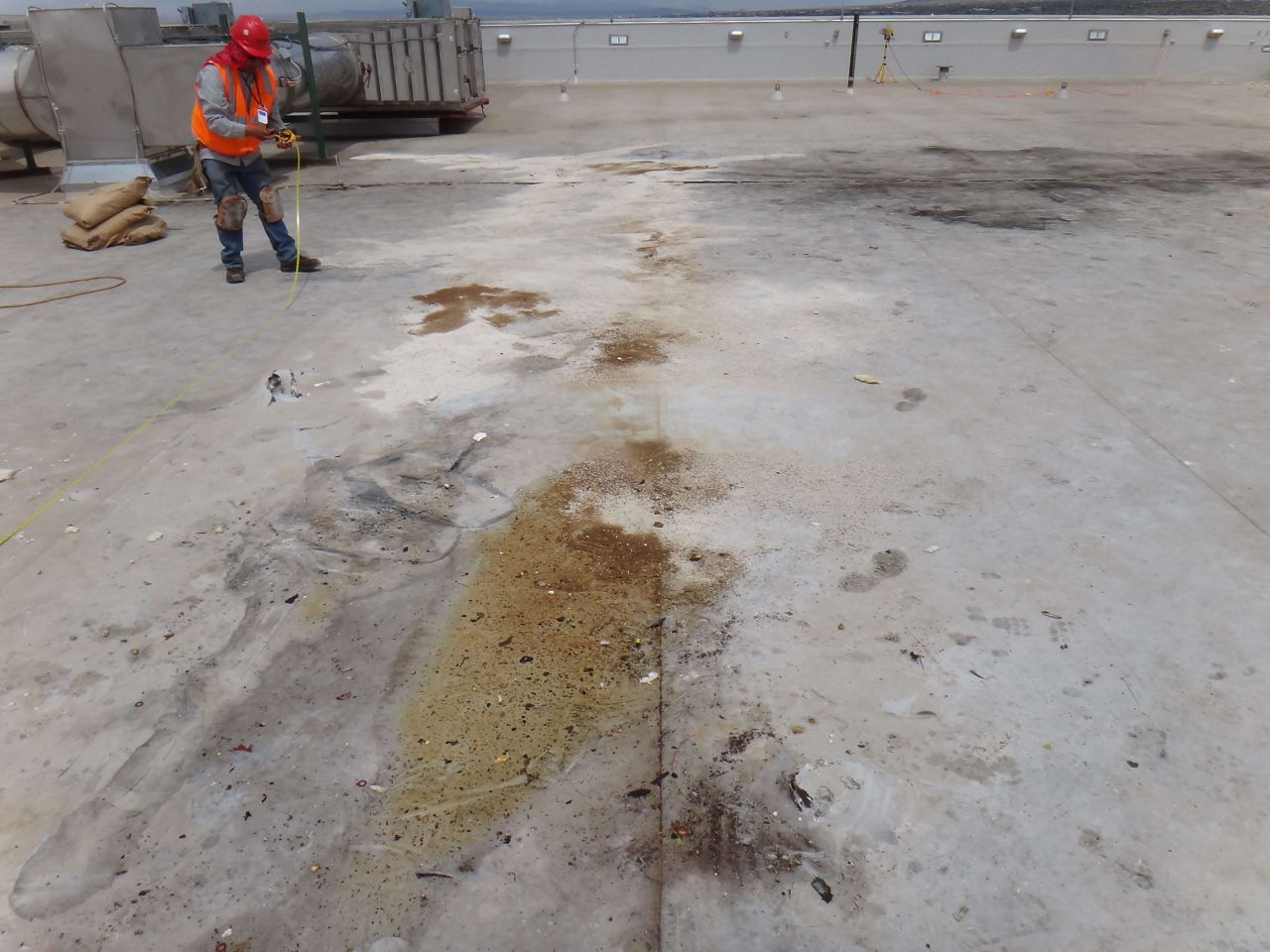 ONLY TWO PERCENT OF THE AFFECTED AREA NEEDED TO BE REPLACED
Despite the crash and fuel spill, which spread across the roof, only about two percent of the affected area needed to be replaced. The remainder of the roof simply needed to be cleaned up due to the nonporous nature of the PVC membrane. As a result, the hospital saved tremendous amounts of money by not having to replace the entire wing of the building.
"If this had been any other roofing material, such as asphalt, TPO or EPDM, the entire roof would have to be replaced," stated Tom Johns of National Roofing. "Because this was a PVC Sarnafil membrane, it just needed to be cleaned. The Sarnafil membrane assembly took an extraordinary dynamic load impact from a rotating razor and didn't leak even after thousands of gallons of water were dumped on it."
"The fire hazard was eliminated instantly," Johns went on to say. "My opinion is the roof assembly probably prevented an indescribably bigger problem below. The roof assembly absorbed all of the impact energy and a heroic pilot was perhaps saved by an equally superior crash pad."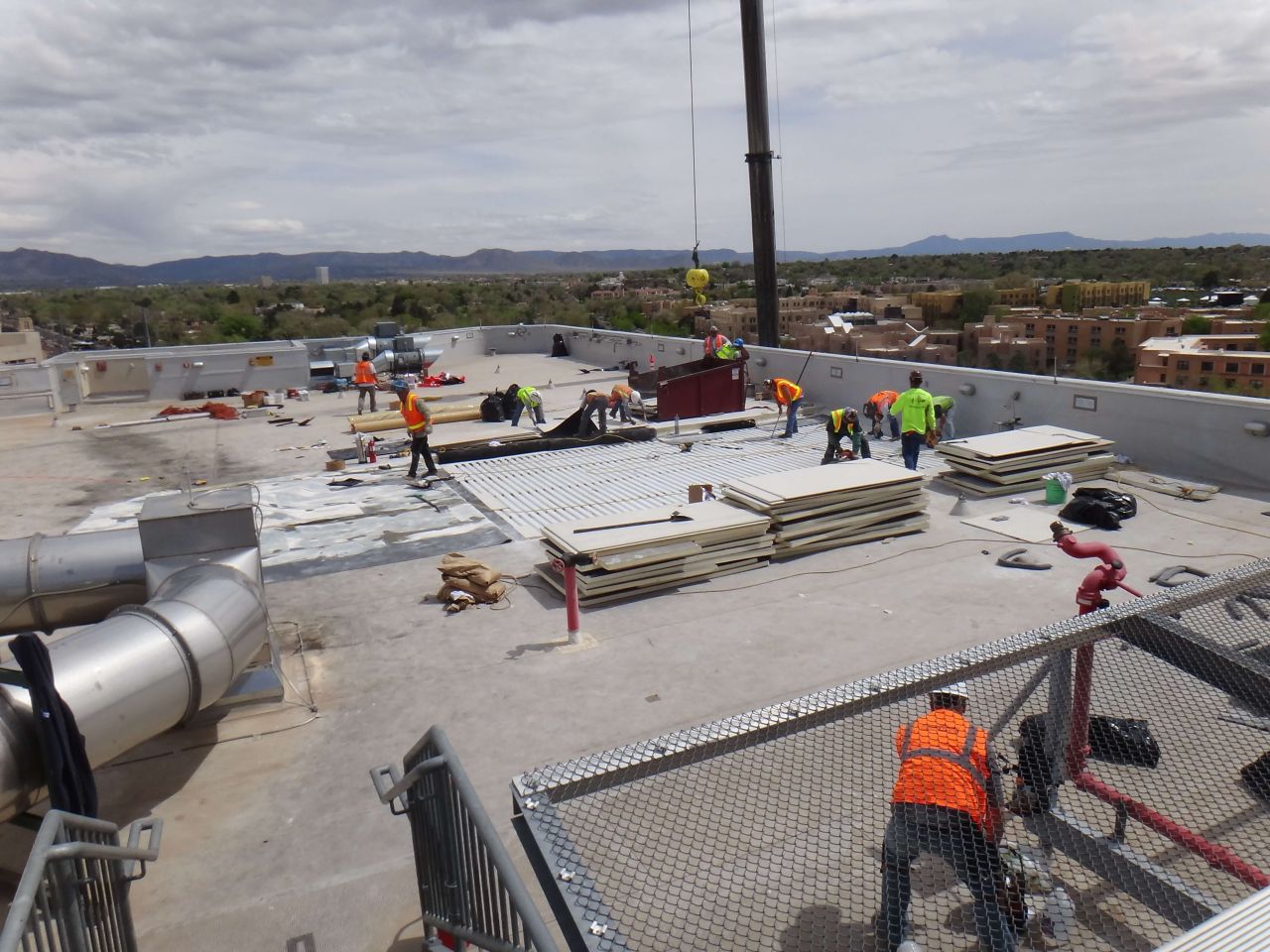 "THE FIRE HAZARD WAS ELIMINATED INSTANTLY"
Johns went on to say: "My opinion is the roof assembly probably prevented an indescribably bigger problem below. The roof assembly absorbed all of the impact energy and a heroic pilot was perhaps saved by an equally superior crash pad."