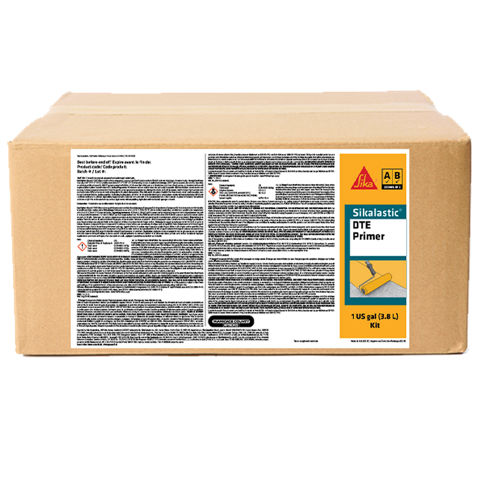 Two-component damp tolerant epoxy primer
Sikalastic® DTE Primer is a two-component, damp tolerant epoxy primer used to enhance the adhesion of Sikalastic® RoofPro Systems on damp concrete.
Low odor, low VOC formulation
Seals concrete and masonry surfaces, reducing outgassing
Usage
Suitable for use on most sound concrete and masonry substrate surfaces where both a penetrative sealing and surface-lying effect is required.  
Advantages
Low odor, low VOC formulation
Seals concrete and masonry surfaces, reducing outgassing
Packaging
1 gal. kit (0.62 gal. Part A, 0.38 gal. Part B)
Product Details
Product Information
Chemical Base
Two-component epoxy
Storage Conditions
Store dry at 40–95 °F (2–35 °C).
Volatile organic compound (VOC) content
Application
Application Information
Product Temperature
Condition material to 50–77 °F (10–25 °C) before using for ease of application
Ambient Air Temperature
41 °F (5 °C) min. / 95 °F (35 °C) max.
Relative Air Humidity
80 % R.H. max.
Dew Point
Not for use on surfaces wth condensation. Air, substrate and uncured coating must be ≥ 5 °F (3 °C) above dew point.
Substrate Temperature
41 °F (5 °C) min. / 140 °F (60 °C) max.
Substrate Moisture Content
≤ 6 % moisture content Test method: Sika®-Tramex meter
No rising moisture according to ASTM (Polyethylene-sheet).
Waiting / Recoat Times
Allow primer to cure completely prior to applying membrane resin.
Full cure: 8 hours at 68°F.
Apply membrane resin within 24 hours of primer application. Maximum primer exposure is 3 days. Primer exposed longer than 3 days, exposed to water during curing and exhibiting a chalky appearance, must be reprimed. Deteriorated primer must be mechanically removed before repriming
Consumption
Coverage
200 ft²/gal on prepared, dry concrete, depending on substrate profile and porosity.
100 ft²/gal when mixed with 10 lb. 20–40 mesh kiln-dried sand as a 30 mil slurry coat.
Note: Rough, porous, or absorbent surfaces will reduce yield and may require an additional coat of primer.
Application steps
SUBSTRATE PREPARATION
All substrate surfaces shall be clean, dry and sound. Acceptable substrates include: sound concrete and masonry. Reference separate System Data Sheet for specific surface preparation requirements.
MIXING
Mix ratio is 1.6:1 (A:B) by volume. Add Part B into Part A and mix with mechanical mixer (Jiffy) at low speed. Avoid adding air into the primer during mixing. When fully mixed, the primer should be free from streaks and of a uniform amber color. Do not break down kits into smaller quantities. For leveling/sealing slurry, add 10 lb. 20–40 mesh kiln-dried sand to mixed primer and mix with mechanical mixer (Jiffy) until a uniform consistency is achieved.
APPLICATION
Apply by brush or phenolic resin core roller at the recommended rate. Correct amount of primer will saturate the substrate and leave a slight film on the substrate top surface. Apply evenly without puddling. Apply slurry with flat-bladed squeegee or trowel.
Removal
Remove wet primer with solvent. Once cured, primer can only be removed by mechanical means. Strictly follow solvent manufacturer's warnings and instructions for use.