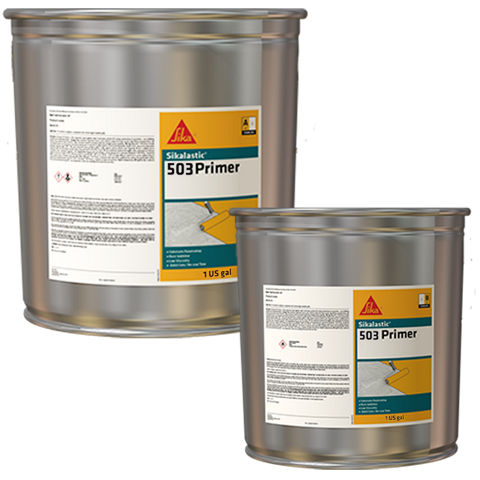 Two component Polyurethane primer for PVC & TPO substrates
Two component, high solids, cool roof, polyurethane liquid applied primer with unique penetrating characteristics
High Solids
Fast Re-Coat Time
Low Odor
Low Viscosity
Usage
For use with Sikalastic® -500 RoofCoat products
PVC*
TPO*
Intercoat adhesion & re-coat primer for existing urethane systems
 
*Some surfaces may be manufactured with a lacquer finish, contact Sika if pull/adhesion test yields less than required pli  
Advantages
High Solids
Fast Re-Coat Time
Low Odor
Low Viscosity
Packaging
2 gal. kit
Part A: 1 gal
Part B: 1 gal
Color
Part A - black
Part B - white
Product Details
Product Information
Chemical Base
Two component Polyurethane
Storage Conditions
Keep containers closed and store in a dry, cool place away from direct sunlight, heat, sparks, open flame, and moisture. Keep material stored above 65 °F (18 °C). Open containers should be blanketed with dry nitrogen before resealing.
Density
Part A: 1.22 kg/l
Part B: 0.98 kg/l
Viscosity
500 cps. (at 75 °F (24 °C) and 50 % R.H. Part A+B)
Volatile organic compound (VOC) content
Application
Application Information
Mixing Ratio
Part A : Part B =   1 : 1  (by volume)
Ambient Air Temperature
41 °F (5 °C) min. / 104 °F (40 °C) max.
Relative Air Humidity
80 % R.H. max.
Dew Point
Beware of condensation.
The substrate and uncured coating must be ≥ 5 °F (3 °C) above dew point.
Substrate Temperature
41 °F (5 °C) min. / 140 °F (60 °C) max.
Pot Life
60–90 minutes (at 75 °F (24 °C) and 50 % R.H. Part A+B)
Waiting / Recoat Times
Allow primer to cure completely prior to applying membrane resin.
Full cure: 2 - 4 hours at 68°F.
Maximum primer exposure is 12 hours. Primer exposed longer than 12 hours, exposed to water during curing and exhibiting a chalky appearance, must be reprimed. Deteriorated primer must be mechanically removed before reapplication.
Application steps
MIXING
The volume mixing ratio is 1 part, Part-A (black liquid) into 1 part, Part-B (white liquid). Mix until even color distribution.
APPLICATION
Sikalastic®-503 Primer should be applied at the rate of 1 gal (mixture of Part-A & Part-B) / 300 ft2. Coverage rate will depend on surface roughness and porosity. It can be applied using an airless sprayer, brush, or phenolic resin core roller. Do not allow the material to puddle.